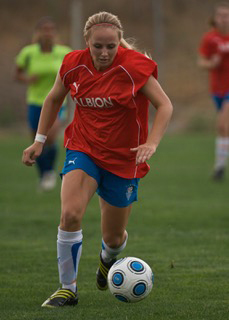 "Playing for ALBION introduced me to opportunities that I would not have otherwise had — from playing against some of the most competitive clubs in the nation, being selected to participate in ODP, and getting recruited to play collegiate soccer at the D1 level.
Playing soccer in such a competitive environment also taught me valuable skills such as perseverance, team building, and time management (among many other things) that have helped me both personally and professionally.
These days, I work for the U.S. Soccer Foundation, a national soccer nonprofit whose mission is to provide access to soccer to those who might not otherwise have access to the game due to barriers such as transportation or cost. Through our after school program, Soccer for Success, we use soccer to teach critical life skills and provide youth with a coach-mentor. We also create mini-pitches across the country through our Safe Places to Play program (pictured).
Outside of the fact that "soccer" is in my job title, the work we do at the U.S. Soccer Foundation is incredibly rewarding because I get to give back to a sport that has given (and continues to give) me so much." – Geneva Decker